Perplexus Epic - Brain Game
$39.99
Shipping calculated at checkout
Are you ready to take on Perplexus Epic? True to its name, this puzzling and exhilarating maze has 125 challenges to tackle! Peer into the clear plastic sphere and you'll see a maze so intricate that even puzzle masters may quake in fear! If you're feeling brave, hold Perplexus Epic in both hands and rotate it 360 degrees to move the silver ball along the numbered path! Should you fall off, head to start and get rolling again! Make it across the serpentine track, down the gondola, across the launch ramp and around Escher's stairs to win! The most difficult Perplexus, this is the game that's easy to play, hard to master! Grab on and don't let go until you've conquered Perplexus Epic!


Includes: Perplexus Epic Sphere, Standing Base
125 CHALLENGING OBSTACLES
Put your skills to the test with Perplexus Epic! Do you have what it takes to make it through this thrilling 3D maze of 125 challenging obstacles? Flip, twist and spin Perplexus Epic 360 degrees to navigate the ball along the numbered track.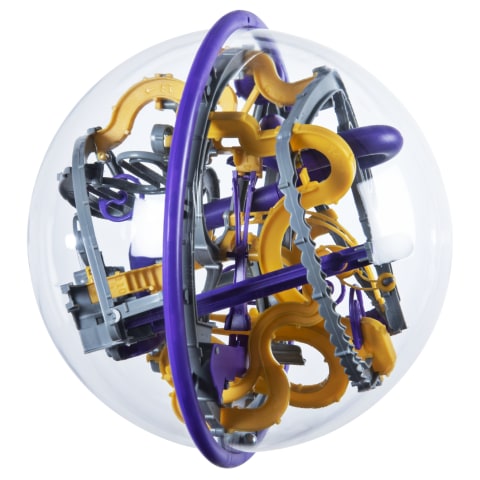 3D MAZE GAME
Maneuver tricky obstacles like the serpentine, launch ramp and Escher's stairs without falling off the track! If your ball falls, head back to the start and try again. It's an intense, bendy challenge you won't be able to put down!
EASY TO PLAY, HARD TO MASTER
With multiple levels of difficulty to master, keep the ball rolling with Perplexus Rebel and Perplexus Beast (each sold separately). Master the challenge of Perplexus Epic!
10% off your first order
Sign up for our newsletter, get 10% off your first order, be the first to learn about new products and deals.